We can fix any I-beam pocket leak, wet or dry, from the interior

SP-3 Polyurethane fills the I-Beam Pocket from the interior to exterior.
Produces a pliable membrane.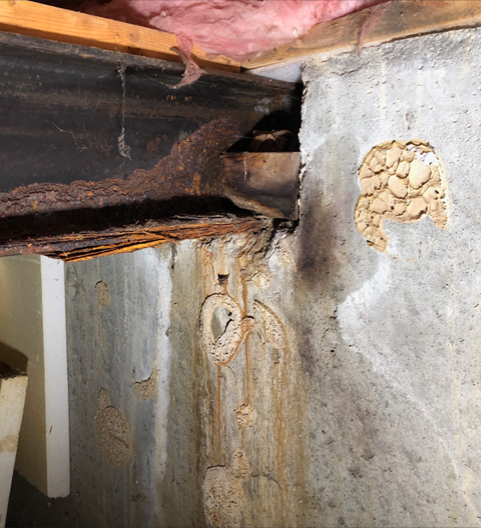 Reacts immediately to moisture, creating a lasting bond in 40 seconds or less.
I-Beam pocket leaks are common thru out southeast Michigan poured basement walls. Most foundation contractors leave the I-Beam pocket open, others might fill with partial cement, broken bricks or even wood scraps. These pockets leak from the back soil area and enter at the brick step.
At Mr. Sponge Waterproofing, we pack the entire I-Beam pocket with 9000 tinsel strength cement prior to our high-pressure injection of water activated SP-3 polyurethane. This creates a permanent water stop thru out the entire I-Beam pocket and adjoining brick step.
Repaired and water free in less than 2 hours.
We utilize our specialized sealing process and SP-3 polyurethane.
I Beam pockets can leak when the joint is at /or below grade.
WHY DIG WHEN OUR PROCESS SEALS FROM THE INSIDE ALL THE WAY TO THE OUTSIDE

Digging a basement on the outside can be expensive and upset the landscaping around your house. Sealing the leak at the source is the best method of repair. Instead of digging, why not use a process that pushes the sealant all the way to the outside where the water is entering. Our process will travel to the outside shutting off water where it is important, the source.
If you are looking for a specialized owner-operated company to fix your leaks, you have found your solution in Mr. Sponge Waterproofing. We look forward to helping solve your basement leak problems.